Medical Mission – Phnom Krom, Cambodia
Medical Mission &
MIKI Home Visit

DETAILS
Duration: 15th to 19th March 2018
Locations: Phnom Krom Village & MIKI Home
Participants: 17 Missionaries (1 doctor & 1 dentist)
GoForthAsia and New Life Community Church (NLCC) embarked upon a medical mission on the 15th of March to Phnom Krom village and visited MIKI Home in between this mission. Locally supervised by Sister Pushpa and Ps Leang, the mission was a tremendous success, blessed by the protection, grace and guidance by the Lord Jesus Christ. He was truly with us all the time, safeguarding everyone involved – and is still is.
Total patients: 210 villagers
Dental treatments: 46 villagers
Food distributions: 200 families
Total Salvations: 34 villagers
DAY 1
Gathered at MIKI Home, handed over used clothes to Sis Pushpa for further distribution which were generously donated by some of the NLCC's members. Later, a small group traveled to the designated medical facility to purchase medicines and supplies for the following day's medical mission. Adjourned to our hotel and subsequently repackaged the medicines. Fellowshipped with MIKI Home's children and had dinner with them.
DAY 2
Distributed food to 200 families and individual stations were setup thereafter to attend to patients and villagers who needed medical attention. 6 stations were established:-
Registration – to assess medical requirements / conditions and assignments to the next relevant station(s)
Doctor
Dentist
Pharmacy
Salvation station
Children Ministry
We had dinner with MIKI Home children and retired to our hotel thereafter.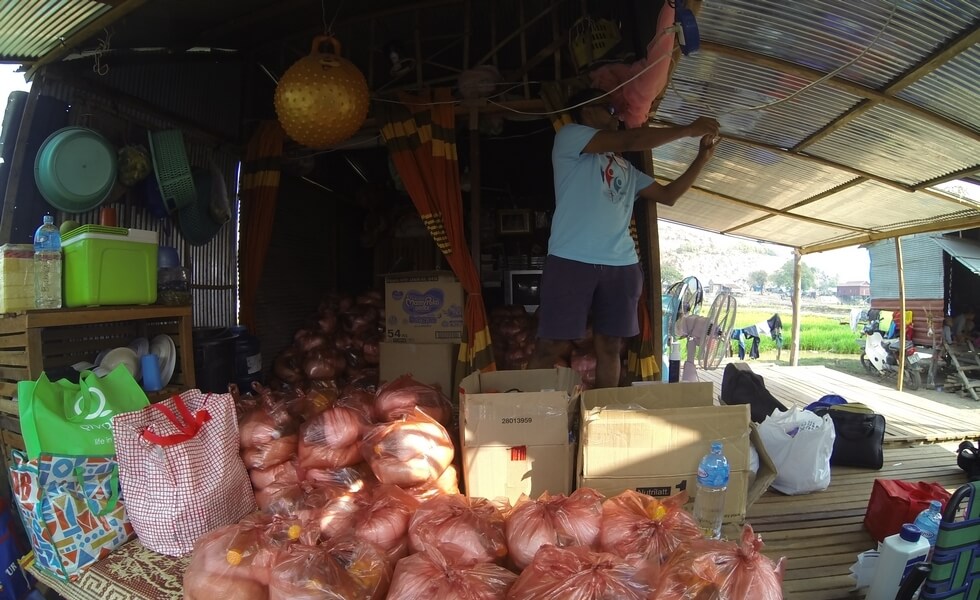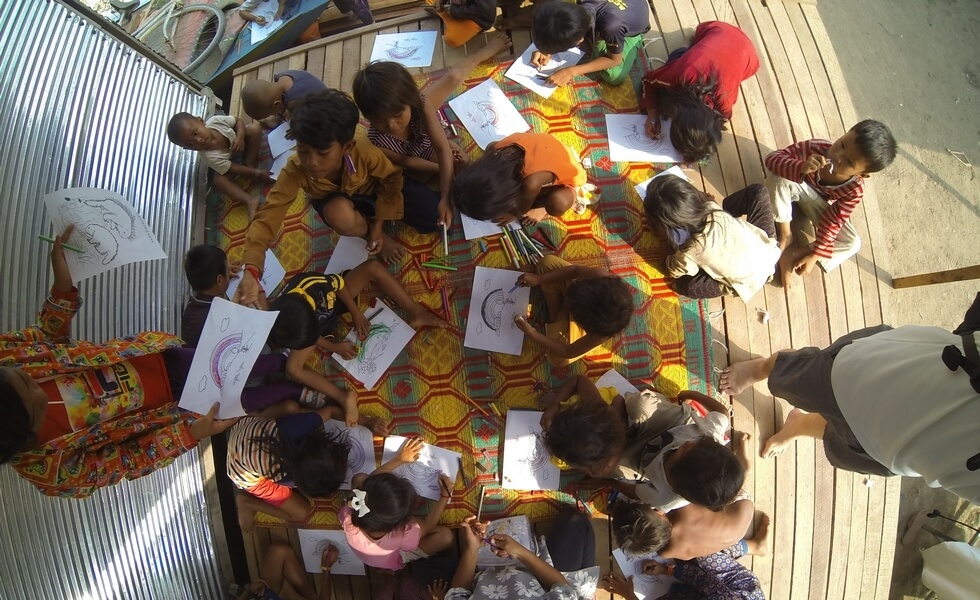 DAY 3
2nd day of medical mission, and the second wave of villagers seeking treatment dropped by and were attended to. The children ministry station was lively through these 2 days with various activities including presentations by local interpretors, handouts, coloring contest, prayers and many more.
As we end our medical mission in Phnom Krhom on our 3rd day in Cambodia, we praise the Lord's name and through His blessings and Grace that Glory will continue to shine among the people here, particularly to those who have accepted Jesus Christ as their Messiah and the one true Saviour.
TESTIMONY #1
"Praise the Lord for 2 fruitful days of medical mission at Phnom Krom village. Rich field and opportunities were given to us to sow and reap in this village. 210 patients came to seek medical treatments, 46 were given dentist treatments and many were praed for. I shared the Gospel message using the Evangelical cube as my tool.
Praise the Lord for sending me good translators to communicate the Gospel and thank God for answering all the prayers of the intercessors. A total of 34 blessed souls received the Lord (adults and children) and prayed to receive salvation. Truly the harvest is plentiful and we need to pray for more labourers in the field.
Indeed blessed are the poor in Spirit for theirs is the Kingdom of God. Praise the Lord for the team for their great teamwork and diligence, each of them doing their part and letting God's presence, His Love, His Light, His Word and the power of the Holy Spirit to bring conviction and salvation unto them.
My word of encouragement – it is always important for us to stay focused on what is God's missions for us on the field and to complete His Work that He sent us to do in which will give glory to Him." – Sis Eunice Tiew
TESTIMONY #2
"Thank God for NLCC's team for their generosity and labour of love shown to the very poor of Siem Reap, Cambodia. They came all fired up and prayed up to do God's work, blessing 230 families with food distribution; medical and dental mission. Many children were not forgotten but received goodies and ministry.
The visiting team and local team worked well together in spite of things not going as planned all the time – not getting ordered lunch, change or lack of interpreters, adjusting to people from a different country and culture. There was much respect and tolerance for each other. I thank God all went well and everyone was happy.
I especially thank God for His favour. As soon as we got news of medical mission we went about getting proper procedure and clearance for such a mission. The village head gave us his word and assurance that we did not need village health center approval and his approval was enough. We kept asking him regularly and got the same answer. A few days before the team was due to arrive the village head asked to see us. So my staff went to meet him and they went to the health center to get the approval.
The health center would not give their approval and asked us to get the approval from the Provincial Health Center. We were told it would take between half to one month for our application to be processed. So we decided to get help from our cook's husband who worked at the Provincial Health Center but good news was still far away. To cut the story short our cook took us to a local pastor who was in charge of Christian matters and who also knew some top people. He assured us to go ahead with the medical mission and was also present on the first day. On both days of medical mission the assistant village head, a health center official and police were there to help with security and crowd control. Praise the Lord !!!
To be honest there were moments when I feared we had to cancel the medical mission but God and the prayers of His children prevailed. To God be the glory !!!!
The two days of medical mission also saw 34 new conversions and some of them are attending Sunday cell group meeting. We pray more will join. Last week we gave the village head a Khmer bible on request (he used to go to church) and gave a cell group leader a new fan and bags of clothes as well as toys for distribution in time for Khmer New Year. Glory to God !!!!" – Sister Pushpha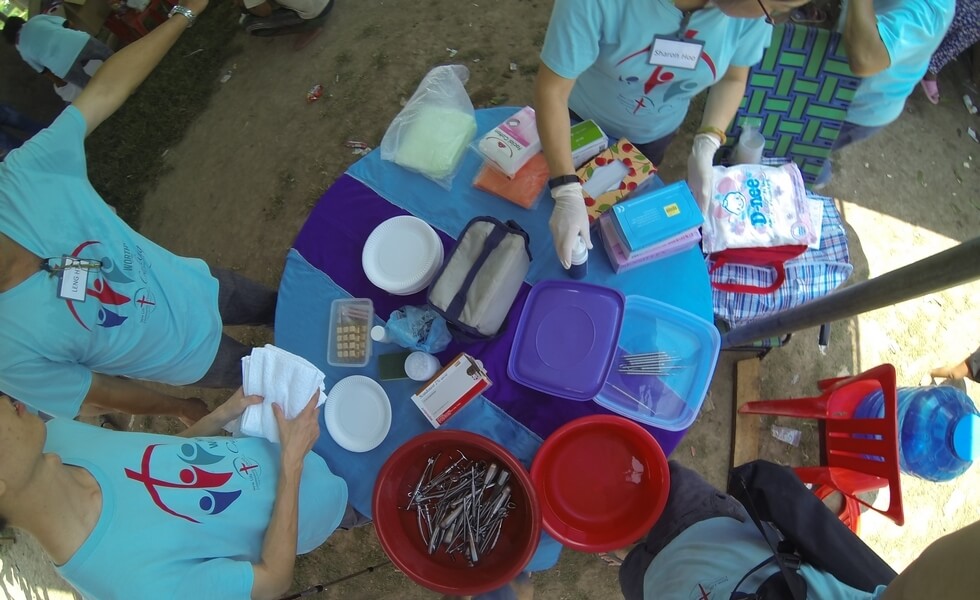 DAY 4
We attended Sunday's Service at Elim Church, Siem Reap, around 5 to 10 minutes drive from MIKI Home. The Word of God was shared and numerous Worship songs were sung from all age groups, including 2 songs by NLCC members. We had a final fellowship session with MIKI Home's staffs and children on our last evening at Siem Reap. All of us flew back the following day to Malaysia.